1st weeks' result dah kuar !!! Jom kita tengok TOP 10 !!!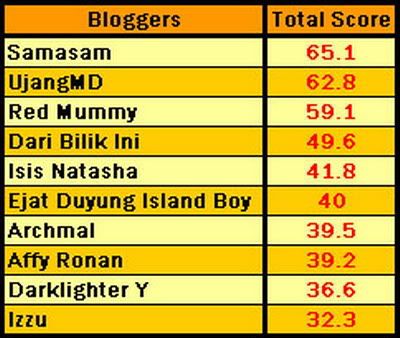 Marks here are based on 70% dari undian melalui polling station
&
30% dari jury²
Ini lah dia results atas nilaian assignment week 1

All these top 10 bloggers
Made it to the next round of competition - Week 2!!!
BOTTOM 2 UNTUK 1ST ROUND
KLIK HERE
GOOD NEWS!!!!
NO ONE WILL BE ELIMINATED
FOR THE FIRST WEEK
CONGRATULATION TO ALL CONTESTANTS
Dengan ini, 2nd assignment telah pun disediakan



PROBLEM STATEMENTS



Kemunculan artist² baru sekarang ini kian menjadi², kan? Dengan adanya pertandingan² realiti dan lain² sekarang nih, huiyoh! Makin banyak menusie bergelar ARTIST sekarang ini, kan? Dan ada diantara mereka² yang baru muncul ini kan, yang mungkin mempunya bakat yang sangat besar - tapi, naiknye, tak lama. Apa org cakap, Artist Mee Segera? I wonder why? Management tak betul ke, ape? Promosi nan ado ke?
QUESTION
"BI2006 - Week 2 Assignment :

YOU are the new Manager for Diddy AF4. As a manager, what would you do to get Diddy to be an established singer / artist in the Malaysian Music Industry?"
PS:
Assignment boleh dibuat in Malay & English
BERDEBAR-DEBAR
APA LA NAK DITULIS EK ?